2021年4月
It shouldn't have happened like this… We were all imagining and hoping that the COVID-19 pandemic would be no more than a momentary hiccup—an exertion lasting for no longer than a year before we could return to old familiar ways.
But instead the pandemic is still continuing in most parts of the world, and even at best we are just dreaming of going back to a "new normal".
As of the time of writing, we are still hopeful that the Finnish festival summer will take place in some form at least. Finland's cultural summer normally includes about 100 festivals of art and culture (If interested, you can check the offerings in 8 languages at www.festivals.fi), attracting combined audiences numbering around two million people. This is no mean achievement in a country with a population of only 5.5 million.
The rest of Europe is also naturally still dreaming of a festival summer, but everything still remains highly unclear.
Nobody expects everything this summer to be quite as it was. It is likely that no more than half the normal number of tickets can be sold, after allowing for social distancing and hygiene. The major rock festivals have already written off summer 2021… This is all in spite of the accelerating pace of vaccination programmes suggesting that the required level of herd immunity might finally be attained by late summer.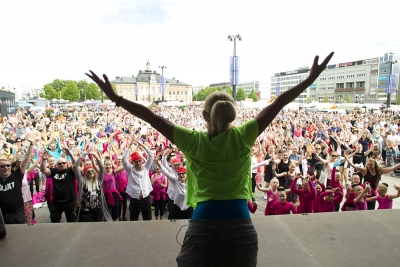 Kuopio Dance Festival (Photo by Petri Laitinen)
Before the pandemic, we also attracted many international tourists every year, including from Hong Kong. Nowadays nobody even dreams of seeing such visitors, and we are instead expecting an exceptional summer of wholly domestic audiences.
The media is currently full of chatter about what will happen after the coronavirus epidemic is over. How will things open up, how will we get free, how will we live from now on, what will change and what won't?
I cannot help but take part in this game, even though most forecasts turn out to be wildly inaccurate. So this article may well be unearthed in a couple of years to great amusement. But it's better to be wrong than to be nothing at all.
1.
The coronavirus era has brought productions to many of our PC and TV screens that nobody could have even dreamed of before. We have all tried to convince ourselves that this is splendid, and that hopefully all of this live streaming will continue forever, so that we will always be just a couple of mouse clicks away from such delights as the latest production of La Scala in Milan. I personally followed some stunning presentations of the Hong Kong Arts Festival remotely this spring, because there is no way that I would have been able to visit this time.
The most enthusiastic members of the public already believe that this is the future of music and the performing arts.
And that's splendid. But now it occurs to me to ask whether we have completely forgotten that attending in an acoustic physical setting may be the most essential experience of a concert. This is why temples of culture have been built for hundreds of years in Europe, and why new music shrines are still being built around the world. These are places where sound circulates in space, with acoustics becoming a key instrument at the heart of the action. The acoustics and sense of ambient space at the Vienna Musikverein, the Concertgebouw in Amsterdam or Suntory Hall in Tokyo cannot be reproduced in any living room, even with the costliest paraphernalia of the most dedicated hi-fi enthusiast.
That's why I predict that even though streaming will become a pleasant, important and horizon-broadening addition to the cultural palette, the basic product is in no danger of disappearing.
2.
In my youth I was happy to make fun of people who come to concerts merely to catch up with old acquaintances and exchange the latest gossip over a glass of wine during the interval. I really never stopped doing this, although a glance in the mirror nowadays is all it takes to silence my teenage rebelliousness. And now I am even shocked to find that it is precisely those interval encounters that I miss at least as much as the concert performances. So should we greatly extend those intervals in the post-coronavirus era, and correspondingly shorten concerts to allow more time for socialising?
If anyone thinks non-stop concert performances are great, then so be it, but the rest of us need a return of our wineglass gossip and trivial interludes! Culture remains a strongly social activity, and genuine enjoyment of art is in no way at odds with being able to meet friends at the same time.
3.
I suppose about a year ago I was hoping that the pandemic would prove to be a lesson in residency thinking for the art world. By this I mean that artists would no longer fly around the planet chasing gigs here and there, but would spend longer periods in one city. This would both decrease the carbon footprint and increase the impact footprint on each individual community, which might result in the emergence of something truly new and meaningful in the local climate.
While I still harbour the same hope, I predict that artists in genuine international demand will fly even more from place to place when the borders reopen. This is because the demand is huge—and also because revenues have fallen sharply, even from major stars. This cash deficit must be corrected, and the temptation to perform for large audiences is huge.
4.
The pandemic has finally highlighted deep inequalities in the art world, both in Europe and globally. Though this is hardly headline news, it has now become visible to everyone in all its sterility.
It may not be good manners to say this aloud, but I will do so nonetheless: The pandemic will not bring an end to the harsh law of supply and demand. There is simply too much supply and far too little demand for everything in the product range called art. A huge supply may delight consumers, but for producers it means living with constant economic uncertainty.
Obviously nobody is at all surprised at this, and I don't think anyone dreaming of a future in art imagines that the sector is an easy one. Artists will still seek to be artists, even with the threat and uncertain income.
Culture and art still have to justify their existence every day and on all continents, and I do not think that a pandemic will change anything—notwithstanding such developments as our new understanding of the importance of music for human well-being.
The pandemic may nevertheless have taught us that the presence of many operators in the art world is entirely futile, and likewise the long chain of subcontractors supporting them. At least some minor measures, structural improvements and correction of the most egregious shortcomings are quite certainly in our future.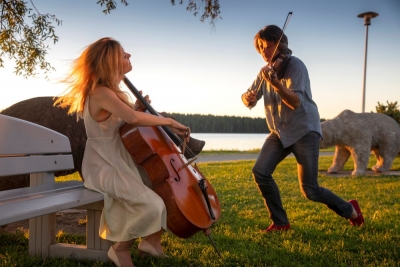 Kuhmo Chamber Music Festival (Photo by Stefan Bremer)
5.
And now onto some disconnected observations in no particular order.
What have I learned during the coronavirus crisis? The answer is surprisingly a great deal:
People are, on average, wonderfully flexible, warm and lovable all over the world. A crisis highlights the good sides of people more effectively than their bad characteristics. People tend to assist, guide and support one another with tremendous energy and warmth.
I would somehow like to hope that all of this will still be to the good, but this faith is sometimes tested. We are sure to learn from this experience, and even though people are masters of the art of amnesia, perhaps something of this will even remain in the collective memory for a few years to come.
Musicians, orchestras, theatres, festivals and all operators in the field have developed new ways of meeting their audiences in the digital world with amazing speed. Only one aspect is missing and it means everything: Revenue models are generating next to nothing, and the position of freelance artists in particular is shockingly gloomy.
The festival summer may be ruined for the second season running, and many people will revise their summer rituals. At the same time, those politicians whose first instinct was always to oppose supporting festivals now understand that such support is not merely a subsidy, but an investment that generates well-being for restaurants, hotels, shops, filling stations and other local businesses.
What have I failed to learn?
While I am well aware that travel should be restricted for climate reasons, I will still probably hop on the first flight from Helsinki Airport as soon as the more zealous border guards allow me to.
I will continue to hug my loved ones and everyone else that I happen to like—as long as the virus remains at bay.
I will still not enjoy mass gatherings of tens of thousands of people, even if they are allowed again one day.
I promise to continue complaining about tedious concert programmes and artistic direction that errs on the safe side—and to marvel at the continual recycling of old classics, even though the world is full of new music and art.
本文章並不代表國際演藝評論家協會(香港分會)之立場;歡迎所評的劇團或劇作者回應,回應文章將置放於評論文章後。
本網站內一切內容之版權均屬國際演藝評論家協會(香港分會)及原作者所有,未經本會及/或原作者書面同意,不得轉載。