2021年4月
I happen to live in a country that is tucked away in the north-eastern corner of Europe and extends all the way to the Arctic. Only 5.5 million people live here—an absurdly low figure by the standards of countries in the Far East. My work nevertheless involves representing nearly a hundred festivals of art and culture, meaning a sizeable variety of operators in such a small country. Conversations with this group are always lively, diverse and sometimes heated. And it is precisely this surfeit of speech that makes the festival sector so fascinating.
I'm now starting to think that it may even be time to talk even more.
Conditions are naturally more colourful still internationally. In January 2020, while we were still free of the coronavirus, I sat with about 600 other art professionals at a conference of the International Society for the Performing Arts network in New York. Two key themes rose to prominence: One was the status of various silenced minorities at the heart of the art world, and the other was global heating and its impact on the operations of art institutions.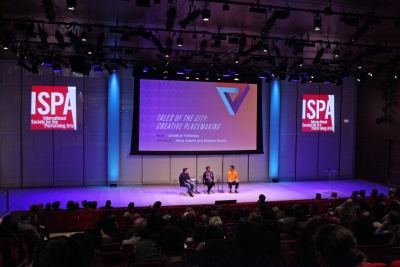 New York 2020 ISPA Congress (Photo by Ira Fox)
Glancing at our cellphones during the discussions, we noted that wildfires were still raging in Australia. The temperature in New York was also plus 19 degrees Celsius, even though it was the middle of January.
We were all talking about the climate crisis with real concern, but the irony is that the carbon footprint of the New York conference was so large that no one even dared to calculate it, probably because the consequent shame would have eclipsed all of the high-sounding rhetoric and forced us to look in the mirror. We had all flown across entire continents to attend an event where we were concerned about the climate crisis, so… And this is the point at which the topic of conversation usually switches to something more comfortable.
And then, COVID-19 put a stop to all of this travel. Suddenly we were forced to live, or at least to travel, in an environmentally friendly way. And it feels very distressing.
The biggest dilemma of our time is that we all talk a lot but do very little. We continually succumb to intelligence and cleverness, but rarely practise what we preach. And especially now, in the midst of the coronavirus crisis, we are all dreaming of a return to how things were, when we were jetting between continents. In other words, we are pining to restore a world to which there should be no return at all because of global heating.
Are art and culture part of an ever-worsening climate problem, or are they part of the solution? This is the key question.
After all, the role of art has always been to show what the world is like while changing it for the better. Art asks the kind of questions that only art can ask. Every work of art—both the good and the less good—changes something, in many ways and from many perspectives. But what is the role and responsibility of art-producing institutions—and what should they really be doing? Or not doing?
While it may be unreasonable to require miracles or spectacular stunts from symphony orchestras, for example, art institutions—including the shrines of classical music—are also platforms for discussion, or they can at least be put to such use.
So one solution is to talk more, not less, and to harness art institutions—festivals, opera houses, art galleries—as forums for discussion, engaging, irritating, provoking and inducing to dialogue. We need to say more and say it louder! And we must also acknowledge that even though speech does not necessarily lead to action, it is still a better option than saying nothing.
But fear not. I am not calling for us to turn festivals into seminars or debating societies. Presenting art will still be their primary mission. Art institutions nevertheless remain free to do whatever they want, and it could be that in addition to producing art, they could now take the opportunity to engage in intellectual debate. This would at least be a better approach to taking responsibility than staying silent, especially for our climate.
Space and Opportunities
Climate aside, we should be talking more about inequality in artistic life.
Smart cultural speech has historically been the exclusive preserve of men, and even of mostly white Western men. Art institutions are nevertheless increasingly diverse in 2021 with respect to both ethnicity and gender. While we are admittedly still far from full equality, this reform is now inevitable. We can witness the clear trend in three topical issues alone: Black Lives Matter, #metoo and Stop Asian Hate.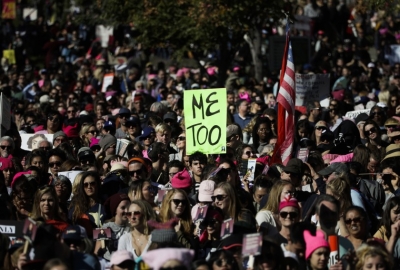 #metoo protest (Photo from Los Angeles Times)
Equality and genuine diversity arise from a broad consideration of various minorities. It emerges when we open our eyes and ears, renounce our prejudices and cultivate our curiosity. And most of all, when we allow space and opportunities. Previously voiceless minorities are no longer consenting to remain silent in much of the world.
This also requires that art institutions cease to be exclusively forums for presentation and become open to speech and debate.
The art world has made great strides in diversity, but one minority still has to fight to make its voice heard. These are the people who are subject to some physical limitation to full involvement in making art.
Finland and Scandinavia have also been a locus of long-sustained work to ensure optimal audience diversity, enabling all kinds of people to feel welcome at concert venues and art institutions. The next step should be to make sure that individuals with various disabilities may also train as artists. Too many fascinating and unique stories will go unheard and unseen if this is not done.
We already have some admirable examples, after all.
I witnessed great strides in this field, both in the Far East and elsewhere, before the COVID-19 pandemic. One pioneer is South Korea, which has more than 150 diverse communities of artists with disabilities, including more than six thousand artists.
The UK-based Candoco Dance Company stages great productions with a professional troupe that includes both disabled and able-bodied dancers.
It was particularly impressive to learn about a new interpretation of Shakespeare's Hamlet by the Canadian Why Not Theatre. This iconic play gets a whole new lease of life when the lead role is played by a woman with a hearing impediment and sign language is used. The performance opens up a whole new perspective, not only on Shakespeare but also on how art looks and feels from a minority perspective. Even those blessed with good hearing gain an impression of what it is like to live in a world where nothing is heard.
Prince Hamlet (Photo by Bronwen Sharp, from the website of Why Not Theatre)
The True Colors Festival in Japan seeks to cater to all demographics, with a special focus on those with learning disabilities and autism, people with various disabilities, and many others whom the art world has forgotten. They are the main characters at this festival, involved both as audience and artists.
No less impressive is the Japanese group TAIHEN, which consists solely of dancers with various disabilities, choreographed and led by Manri Kim. Her work Sandbox Bento is an unusually powerful, gruelling and even violent example of physical theatre. Some of the dancers have no hands and some have no legs, but that doesn't stop them from participating in a fully fledged choreography. It is not about voyeurism or attention seeking, but a story that deserves to be heard.
Hopefully these voices and stories will be remembered again when the coronavirus crisis finally ends. And this will indeed also require travelling, so the irony of concern over global heating and the necessity of travel will continue unabated.
But even this conflict can and should be handled by talking more, not less.
本文章並不代表國際演藝評論家協會(香港分會)之立場;歡迎所評的劇團或劇作者回應,回應文章將置放於評論文章後。
本網站內一切內容之版權均屬國際演藝評論家協會(香港分會)及原作者所有,未經本會及/或原作者書面同意,不得轉載。