2020年3月
The design of Norwegian elementary schools is made with a very specific set of users in mind: teachers, staff and pupils (and to some degree, also their parents). They are all usually introduced to the school building at the beginning of term, and after this everyone knows where the different rooms are, where to go and who to talk to. In Norway, the schools also have a secondary function as art venues. Where and how does the art critic and criticism more generally fit into this programme?
The Cultural Schoolbag: Art experience for all pupils
Since 2001, Norwegian school-age children have been introduced to professional art on a yearly basis, as a part of the public school. The project is called "The Cultural Schoolbag" (TCS), and it is a national project where the Ministry of Culture and the Ministry of Education and Research collaborate. The idea is that all school children are to experience professional art and culture of all sorts:
The programme gives pupils the opportunity to experience, become familiar with and develop an understanding of professional artistic and cultural expressions. The activities must be of professional quality and cover the entire cultural spectrum: film, cultural heritage, literature, music, performing arts and visual arts.[i]
In the beginning, the programme included the first ten years of education, but in 2008 it was expanded and now also includes high school. This means that children experience art and culture every year, through their 13 years of elementary education.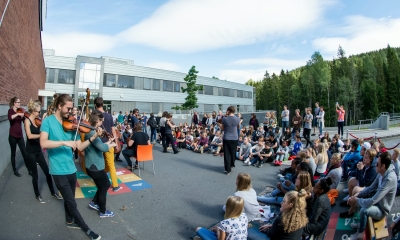 Ensemble Allegria (Photo: Lars Opstad / Kulturtanken)
Norway is a rather small country, with approximately 5.3 million inhabitants. These people are spread in cities and villages along a long coastline and in valleys and highlands and forests. The politics of governing Norway is explicitly decentralised, and this also goes for TCS. Norway reduced the amount of county councils from 19 to 11 in 2020. These are usually responsible for regionally programming, but some municipalities have also developed their own programmes. The funding of the programme is made possible through allocating lottery funds from profits earned by Norsk Tipping (the Norwegian state lottery operator), in addition to funding as well as administrative powers from the county councils.
Since 2016, the organisation Kulturtanken – Arts for Young Audiences has had the national responsibility for the programme and allocating the funds. In 2019 the total amount received was NOK 285 million.[ii] I started on a PhD project in September 2019 where I will be researching how youth experience performing arts through this system. I will explore performative, creative and critical writing as a means to gain empirical data to my project. In addition to gaining data, I am interested in how critical, performative and creative writing with the arts can be used by youth. I am curious as to how the specific TCS context forms the audience, what sort of spectatorship it produces, but have at this point in my research no data to analyse. This essay is based on my observations and experiences through my practice as a critic and are more anecdotal than scientific.
The critic in/out of the loop
As I have written about previously in my article "The critic as an uninvited guest" (2018),[iii] the critic or the researcher is an odd figure in arts contexts with target groups such as children. When the performance is explicitly not aimed at you, how are you to judge relevance or quality? And even more so when the performances take place in spaces that are not always specially designed or even adapted for the arts. Through TCS, all children in Norway, of all classes and backgrounds, are introduced to a wide variety of arts expressions. Several of the country's main art institutions either tour their productions with the TCS system, or have daytime performances or exhibitions for pupils. The geographical nature of Norway, with schools quite literally spread all over the country, has also led to an extensive touring system with art productions that only tour the TCS. The productions are public in themselves, but the performances (each viewing/showing) are closed for the public. Whether they take place at a school or at a theatre, these performances are usually not open to the public.[iv] As a critic, this has made it difficult to gain access—or even get information about which performances will be touring, or premiering, where and when. There is no press contact, no newsletter, nor any calendar with information on up-coming premieres. TCS and the schools have developed systems with culture contacts in the schools, as well as local or regional administrative contact persons whose task is to maintain communication between the schools and the artists. Kulturtanken has been working on a new online portal that will make the communication flow easier, for both the schools and the artists. As a critic, on the other hand, one is not really in the loop.
Watching performance in school
In my experience, the arrival of the critic at a TCS production is usually unannounced. One tends to have made an appointment with either the central programmer or the artists. This information is usually not forwarded to the art venue: the school. Finding the location for the performance can prove to be a more time-consuming task than initially thought. Just finding the right entrance at the school often takes five minutes (there are usually few or no signs indicating the way to the main entrance). The school has few outside visitors, so why should they?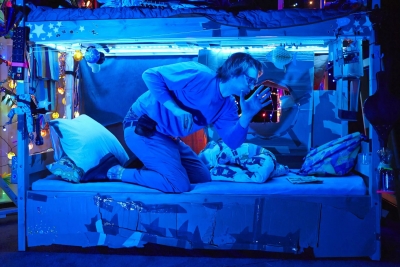 The Ballad of Reidun Robertson and Steven von Gutenberg (Photo: Det Andre Teatret)
This winter I ventured on a trip to an elementary school in the southern part of Norway to see the theatre performance Balladen om Reidun Robertson og Steven von Gutenberg (The Ballad of Reidun Robertson and Steven von Gutenberg). The production/performance was made by a theatre that calls itself "The Other Theatre" (Det Andre Teatret). The theatre is based in Oslo and their performances are usually based on improvisation. Upon entrance of the school, escaping the pouring rain outside, and finally locating the right entrance, I asked a child if she knew where the administration was. "No", she promptly answered. "How about the teachers' room, then?", I asked. Upstairs, she pointed. In the administration, no one knew about the performances taking place, but were more than happy to find out for me and point me in the right direction. I ventured out in the rain again, and once again relied on pupils to find the right building and entrance. There were no signs or posters indicating where to go or when to enter, as the schools have their own systems that they don't need to announce: Everyone there knows how it works. So, I sneaked inside, found a place at the back of the auditorium, in order not to block some of the young spectators' view.
Two pupils were already present, as well as a couple of teachers; preparing and organising. A teacher arrived, followed by a class of children. He stood next to a row, pointed inwards and shouted the number of a class. The row quickly filled up, and the teacher moved about the space, indicating and shouting, and within few minutes, the rows were packed with children, laughing and talking, taking off their wet jackets and scarfs and hats. On stage, two children gathered, together with a performer, and quietly welcomed everyone (both performers and children) and hoped everyone would enjoy the performance. And thus, the performance could start: The lights were turned down, the performer in place, and music started playing. Comments on and imitations of what was said on stage was heard throughout the entire performance. Since the performance was based on improvisational methods and interactivity with the audience, a lot of the comments were welcomed from the stage and included in the plot, and other times ignored.
Watching performance in theatre
When I recently attended a children's performance in a public theatre, on a Saturday, the dynamics were different. As far as I could see, none of the children present came without one or several adults. Be it parents, grandparents, uncles, aunts or other caretakers; the children were accompanied by adults. Next to me was a mother and her two sons, out of which one of them was very bored (by his own statement). He kept creeping onto his mother's lap, whispering loudly, "It's not fun anymore, can we please leave?" Upon which, his mother responded that he had to concentrate, or she tried to point at things on stage, and exclaimed things like "Look!", or "Wow!", in a desperate attempt to make the performance fun or relevant to her son. No such look, as far as I could hear or see.
In my experience, be it public performances or TCS performances: In theatre for children, there are usually comments or questions from the audience. In public theatres or venues, the questions and comments are directed towards the accompanying adult, whereas in TCS they are shared among the pupils or directed towards the stage. How this specific way of watching performing arts— "watching others with others", to lean on Eve Kosofsky Sedgwick and Rachel Fensham[v]—affects the art experience is something I hope to learn more about through my research. Perhaps young critics and writers could reflect on this, from their own perspective. For all I know, this might influence them less than I, as an outsider and professional spectator, expect them to.
Performances for TCS
After nearly twenty years of TCS, we still know fairly little about how the programme has influenced the children and their relation to the arts. During the children's and youth theatre festival Showbox in Oslo in December 2019, a panel of seven teenagers discussed performing arts and teenagers. Early on, they all concluded with the following: "The most important thing in performances is to feel something."[vi] TCS is, as mentioned, a collaboration between the Ministry of Culture and the Ministry of Education and Research, and it is stated in the programme's goals that TCS should 1) help ensure that students are given the opportunity to experience professional art and culture, 2) make it easier for students to experience, become familiar with and develop an understanding of all forms of artistic and cultural expression, and 3) help ensure that artistic and cultural expression is aligned with educational objectives.[vii]
"Educational objectives" is a wide description and could perhaps also include the Kitchen Table demand: learning through emotions. From a critic's point of view, the performing arts programme certainly gives the children the opportunity to become familiar with, if not "all" forms of cultural expression, at least a vast amount of it. There are for instance several productions and artists touring in the TCS programme, that also tour extensively internationally and are a part of the general contemporary theatre and dance context.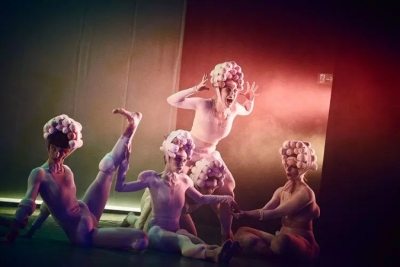 Vanity of Modern Panic (Photo: Kasper Nybo Photography)
Among them are the performance Garage by Cirka Theatre, which this spring has eight planned performances at Dansens Hus/House of Dance in Oslo for TCS. The performance has also toured to festivals in Italy, France, Germany and China. During the international ASSITEJ Artistic Gathering festival in Kristiansand in September 2019, several of the festival productions were also made available for TCS. Apart from Garage, the programme includes performances such as Vanity of Modern Panic by Gunilla Lind Dance Theatre and Playful Tiger by Barrowland Ballet. The national contemporary dance company Carte Blanche and theatre and dance companies like NIE Theatre, Panta Rei Dance Theatre, Jo Strømgren Company and Yngvild Aspeli/Cie Plexus Polaire all tour their productions both internationally and within TCS.
Most of these performances are touring productions that travel around the country and perform the performances locally (either at the schools or at public theatres or cultural houses). But some of the productions are not tour-friendly, so to speak, and rely on the pupils traveling to the theatres. Among these productions is the main stage musical Charlie and the Chocolate Factory at one of the national theatres in Norway. Pupils in the sixth grade in Oslo also have the possibility to be taken on a tour to the programming venue Black Box Theatre where they are introduced to the different elements of a theatre, such as lighting and sound design.
Charlie and the Chocolate Factory (Photo: Erik Berg)
In this way, children are introduced to a wide variety of arts expression early on. They are introduced to different ways of approaching dance and theatre, and knowledge of and experiences with art is thus no longer restricted to those who can afford it or have family or caretakers who introduce them to it. Whether one chooses to seek out the arts in one's spare time, or even choose it as a professional career, is at least made available as a choice everyone can make an informed decision on.
Art criticism in TCS
In addition to administrating art, TCS also includes some introduction courses to criticism. I have myself taught in one of these courses developed by music critics Ida Habberstad and Hild Borchgrevink, as well as developed my own course on criticism of performing arts. In one of the county councils these courses have been coordinated with the schools, and the pupils have had the possibility to write a review as a part of their exams. One of these programmes took place in the spring of 2017, when the administrative center of the county council had invited four critics from literature, film, music and performing arts to develop introductory courses. We all met and shared previous experiences with this, as well as tools and tasks. Through this, a total amount of 741 pupils from five schools were introduced to criticism as a part of TCS. After the courses, the pupils attended a festival where they saw performances, readings, concerts and films. Those who wished to do so could then write about their art experiences in a review on their school exam in April.
On other occasions, the schools and critics have collaborated with local newspapers and texts written by some of the pupils have been published. This year, the Norwegian Critics Association, Kulturtanken and the online magazine Periskop (which is dedicated to critique, debate and journalism on art for children and youth) started a joint project. In the fall of 2020, three critics with background from literature, visual arts and performing arts, will develop a workshop on criticism. This will be a pilot project with the working title "The Critical Schoolbag" which aims to invite the youth to explore formats of criticism.
Through TCS, all children and youth are introduced to the arts, but the public debate surrounding the art in this specific context still has a way to go. Who are to write about this art, and on what grounds? How could criticism by children and youth look like, in what formats and for which readers or listeners? Through my research and the pilot project "The Critical Schoolbag", I hope to explore these topics further.
P.S. For readers with a take on the last questions, there is an open call for papers and essays in Critical Stages which will be due on 19th July 2020:
http://www.critical-stages.org/20/theatre-criticism-for-young-audiences-new-directions/
---
本文章並不代表國際演藝評論家協會(香港分會)之立場;歡迎所評的劇團或劇作者回應,回應文章將置放於評論文章後。
本網站內一切內容之版權均屬國際演藝評論家協會(香港分會)及原作者所有,未經本會及/或原作者書面同意,不得轉載。