Presented by︰International Association of Theatre Critics (Hong Kong), Hong Kong Repertory Theatre
Documentation is a door between the past and the future. Despite the robust development of Hong Kong's performing arts industry, its documentation is somewhat moving at a rather slow pace. That's why dialogues with "foreign powers" count most in improving the development. While Mr. Ondřej Svoboda (Czech Republic) shares his invaluable experience in managing theatrical arts archive, Mr. Paul Tischler (Germany) demonstrates his wisdom of performing arts publication and multi-media representation. Besides the dialogues, both Ondřej and Paul will take part in "A Future Called Documentation—International Exchange on Performing Arts Documenation" (20-22, Mar 2020) co-organised by International Association of Theatre Critics (Hong Kong) and Hong Kong Repertory Theatre, as speakers of opening and closing speeches respectively.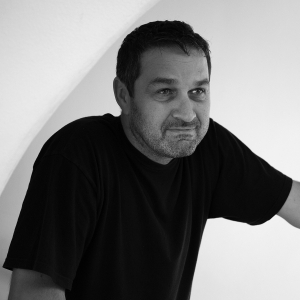 Ondřej Svoboda
Dialogue with Ondřej Svoboda (Czech Republic)
As one of the most notable archives in the world of arts, Arts and Theatre Institute (ATI) is funded by the Ministry of Culture of the Czech Republics and the Czech name of ATI is "Institut umění – Divadelní ústav (IDU)". Being the Deputy Director of IDU and Head of Theatre Institute, Mr. Ondřej Svoboda focuses on managing digitisation, database access to information, as well as international cooperation. He is also actively involved in ATI's publications and regular cooperation with the Prague Quadrennial (PQ), a well-known mega event of performance design and space.
Rep:Repazine of Hong Kong Repertory Theatre|OS:Ondřej Svoboda
Rep: How many people work in the Arts and Theatre Institute (ATI) these days and would you tell us more about the departments involved and their respective duties? What sort of talents are you looking for working in ATI in general? Do they need special training?
OS: There are 52 full-time jobs in ATI. Compared to the similar institutions in Europe we are quite big but we care for a wide portfolio of activities. There are 32 people working in six departments (Documentation, Bibliography, Collection and Archive, Publishing, Research, Library) in the theatre section, which is the biggest part of ATI. Seven other employees are in the Arts Institute that is responsible for information services and international promotion and contacts connected with other types of contemporary arts. The departments for Marketing and PR, International cooperation and Economical Issues are directly under the director's leadership. The special position has also a team preparing Prague Quadrennial (PQ), where are just 2 permanent employees.
In all these activities we are used to collaborating with many external experts or students in accordance with the character of the concrete activity. There are a number of external theatre scientists for research projects, students for digitisation and database processing, and a really big amount of different managers, producers and creative people in the year when PQ is held.
The new employees in the Theatre Institute are usually recruited from students of theatre science or drama faculties. The professional experience is important especially for the research work and it usually takes some time until young people gain it. They get their professional training under supervision of their older colleagues. As the work in this sector is not paid well, their will and enthusiasm are the biggest values.
The headquarters of Arts and Theatre Institute is located in Manhart (also Menhart) Palace, a baroque building on Celetná street in Prague.
Rep: As the ATI is funded by the Ministry of Culture of the Czech Republics, would you tell us the amount of such annual funding and its proportion to the ATI's annual income? Apart from the government funding, is there any supplementary source of income, such as sponsorship or donation from the private sector?
OS: Our budget is combined from more sources, however, private donations to the arts institutions are unfortunately not very common in the Czech Republic. The prestigious institutions such as the National Gallery, National Theatre or some top festivals have their private sponsors, but in the case of the documentation institutions, libraries or archives private sponsors are not common in Central and East Europe—in countries which lived under communist regimes until 1989. ATI's main financial source comes from the Ministry's or government´s subvention which is separated into two parts: stable subvention (35%) and support for projects, research activities or some special programs—for example promotion of Czech performing arts abroad, international cooperation, book publishing, digitisation and so on (37%). Another source of the income comes from renting spaces. Our building [the headquarters] in the city of Prague is in the state ownership and we are its administrator, so the income from renting spaces for shops and restaurants is also an important part of our income (18%). About 10% of the money is sourced from abroad, mainly cooperative grants from the European Union.
Nevertheless, the donation from the private sector to the art has started to be the subject of discussions today, known as the term "artwashing" which has appeared in connection with environmental and ecological issues in the art society. The ethical dimension of the sponsorship is now more important than ever before. There were some cases in Britain and the USA when the leading arts institutions terminated their sponsorship contracts with the companies operating in oil industry (British Museum, National Portrait Gallery in London, Metropolitan Museum in New York) or changed their attitude to sponsors and board members from the industry sector—[the biennial of] Whitney museum in NY was boycotted by artists because of its contacts with a company providing tear gas. And similar situations appeared also in the Czech Republic last year.
Rep: We know ATI has considerable international collaborations and could you share with us the details or experiences of these collaborations?
OS: Our international contacts are really strong and traditional. They have been built since the time the Theatre Institute was established in 1959 (The name of our organization was changed to the Arts and Theatre Institute in 2007). Our most important international event is Prague Quadrennial of Theatre Design and Space (PQ) that was established in 1967 and takes place every four years. This event brought unique possibilities when experts and theatre makers from both parts of the politically separated world could meet and talk together, share their experience, inspire one another and learn from each other in the 70's and 80's. Also young people, students, have been a part of this creative event since its start. In Prague also ITI (International Theatre Institute, 1948) and OISTAT (International Organisation of Scenographers, Theatre Architects and Technicians, 1968) were established. OISTAT had the [office of] secretary-general in the Theatre Institute until 1993. The Velvet Revolution in 1989 opened an opportunity of free travelling and building both personal and institutional partnerships. Entering the European Union also brings the possibility to participate in or lead big international artistic or research projects. From the last decade, I can mention for example projects led by ATI / Prague Quadrennial— "Intersection. Intimacy and Spectacle (2010-2012)", "Shared Space: Music Weather Politics (2013-2016)" and "EMERGENCE. From shared experience to new creativity. Living Heritage / Reframing Memory (2018-2020)". In the scope of another project—"Theatre Architecture in Central Europe (2008-2011)"—we were able among other outputs to build an international database of theatre architecture that is still available and updated on website theatre-architecture.eu. This database was also used by two other international projects and now brings an overview of theatre buildings from all over the world.
Except these big events, our international cooperation takes place on different levels in small bilateral projects, in international networks and NGOs. We support the international mobility of art, we prepare numerous exhibitions for foreign countries, our researcher closely collaborates with experts from Austria, we organize international conferences and so on.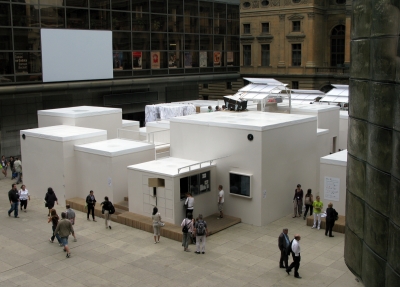 Prague Quadrennial (PQ) 2011-INTERSECTION (Photo by Miroslav Halada)
Rep: With the ever-growing size of archive content, is there any space constraint facing ATI and how would ATI deal with it?
OS: Our situation in the case of archival space has been problematic for a long time. Our historical building in the centre of Prague is not ideal for storing collections of designs, photos, books (there are around 120 thousand volumes just in our library) and other materials. The most space-demanding materials—the set models are placed in the storage out of Prague, which is in a very bad condition. Soon we will finish reconstruction of another small building in the city centre where will be placed a small deposit for archives and collections same as a studio for preparing exhibitions and digitising bigger formats, and also several offices for some of our colleagues. In the five-year horizon, we hope to do a reconstruction of another object, a small industrial building out of the city centre, which will replace our external storage and will provide enough space and suitable conditions for a long-term preservation of all the materials we have.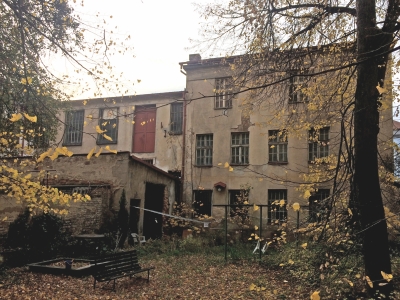 A small factory outside Prague will be revitalised by ATI in 5 years ,as a better space and condition for archival use in future.
Rep: As regards the audio and visual archive, when did the digitalisation process commence and was there any difficulty with view to the digitalisation as a whole?
OS: The massive digitisation started in 2008 thanks to the foreign grant,"Preservation and Presentation of the Cultural Heritage of Czech and World Theatre". We were able to get support thanks to the fact that we were well prepared. We had done the pilot set of photo negatives in the year before and we had prepared the system of describing the digitised materials. The digitisation itself is the easiest part of the whole process, the most important thing is the metadata that enables us to do categorisation and provide the digitised materials in the proper structure. We use our database called "Divadlo (a Czech word for theatre)", which describes theatre productions as the main metadata source. The main information about the content of each digitised material comes very simply directly from this database.
I can't see any fundamental difficulties in the digitisation process but of course, we have to solve some partial problems from time to time. We are still looking for a balance between quality and quantity. As digitisation is not a cheap process we do it in different ways depending on the character of materials. The grant which I mentioned above was finished in 2011 and enabled us to process all our paper photos, negatives and slides (around 150 thousand shots). Especially negatives (around 50 thousand pictures) were very important because there was no other way how to even see their content. An external contractor did this part in the best quality. On the other hand we have hundred thousands of press clippings of different sizes, different shapes, different quality, from different sources. Processing these materials will never be supported by a special grant but we need to digitise them. So we do it in-house, with students, in the way that just fits our needs.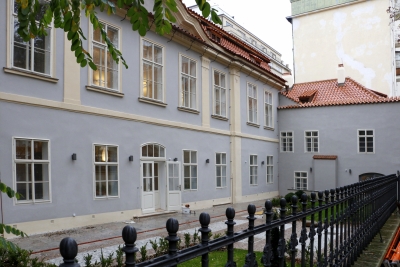 ATI's newly reconstructed building in the city of Prague, which is multi-functional as a small deposit for archives, venue for exhibition, offices for staff, as well as the place to digitise articles of bigger formats.
Rep: Why we need to do documentation for performing arts? And what will you foresee in the future of performing arts publishing world? Let's say any new challenge or opportunity?
OS: The structured and wide documentation process using all possibilities on how to save and provide every type of material which stays after the performances is the only away how to keep and preserve this special kind of cultural heritage. Our role is the same as the role of galleries and museums for other types of art and heritage. As I also mentioned in the previous answer I believe that tools like Wikidata or Wikimedia can help us in our work. Nevertheless, I think the core is and still will be in the systematic work which we can enhance with other information from verified sources in the virtual space. The online theatre programs, ticketing systems, online magazines, broadcastings, social media...... provide us with endless amounts of information which we cannot fully use for our goals nowadays.
Rep: Have you ever been to Hong Kong? And what will you expect and want to share in "A Future Called Documentation: International Exchange on Performing Arts Documentation"?
OS: This is my first travel to Hong Kong but I have had the chance to meet Hong Kong performing arts through its expositions in PQ where Hong Kong is a regular exhibitor from 1995. And I really look forward to learning more right in the place.
I am very familiar with the process of documentation in the way we do it: describing everything in a special structured system in the databases. But from the nowadays point of view, this attitude might be a little bit old-fashioned, maybe I can't see some of the possibilities which new technologies, semantic web, and new online tools bring. I look forward to learning new ideas in that field. I think the new and fresh attitude can help us to cope with the enormous amount of information about performing arts provided from all over the word and use it as a source of valid information for our work.
All photos were provided by the interviewees.
Repazine of Hong Kong Repertory Theatre:
本文章並不代表國際演藝評論家協會(香港分會)之立場;歡迎所評的劇團或劇作者回應,回應文章將置放於評論文章後。
本網站內一切內容之版權均屬國際演藝評論家協會(香港分會)及原作者所有,未經本會及/或原作者書面同意,不得轉載。