2017年12月
When I am overseas, almost all of my foreign friends, knowing I came from the "Kitchen of the World", ask me the secret on how to find an authentic and good Thai restaurant. My answers then, and even now, are that, first, its name should not invoke any exoticism, or Orientalism, and so there should be neither elephant or lotus in the name—for example, my favorite restaurant in New York is SriPraPhai, the owner's name, in Michigan, an even simpler name, ThaiThai, and in Paris, and most surprising name, Restaurant de Paris. On the walls of these restaurants are no touristic photos showing temples, beaches and classical Thai dance; the staff are not in traditional costumes, but T-shirts and jeans; and neither Thai traditional music instruments nor Buddha images are among the decors. The focus is more on food, and the clientèle mostly Asian.
Apply this restaurant metaphor to when foreign theatre-goers arrive in the Thailand capital, one of the most popular touristic destinations in the world, it's not surprising they might assume that contemporary Thai theatre consists mostly of "tourist shows". In fact, there are now such a variety of tourist shows here that anyone can enjoy every evening consecutively for more than a week. These range from an abbreviated version of classical Thai masked dance theatre, or Khon, with English and Chinese surtitles at a historic playhouse in the old town; a Vegas-styled spectacular cultural show with traditional dances, fountains and live elephants; a dramatic enactment of the history of Thai boxing and an actual boxing match; to a world-famous Korean non-verbal show in which the performers cooked Phat Thai, instead of Mandu, and drummed on a can of Somtam, instead of Kimchi; and an ever-popular lady boy cabaret with two performances every evening. Just like Thai food which has been influenced by many nations' culinary culture, there's something for everyone. Speaking of the latter, it should be noted here that a regular and ever-popular Thai show at Edinburgh Fringe is Lady Boys of Bangkok, which has never been seen in Bangkok and the management office of which is in London. While culture ministries of many countries take as their annual agenda to support contemporary works to be presented at this world's largest showcase of theatre, their Thai counterpart put more emphasis on the preservation of traditional theatre and, for example, in recent years rented the Royal Albert Hall and Sydney Opera House to stage grand-scaled Khon productions.
On a more scholarly side, some European and American scholars note that because Thailand has never been colonised by a western country—twice by Myanmar, though—the development of her modern theatre is much slower than that of other formerly colonised states. If this statement is true, then why, in this era when the print journalism is dying, Thailand's two English-language daily newspapers, namely Bangkok Post and The Nation, are publishing reviews of local dance and theatre works every week? And why is IATC Thailand the only national section in Southeast Asia, the region which was almost entirely colonised?
To further prove my point that contemporary Thai theatre needs more serious attention, I, on behalf of IATC Thailand, will briefly recap a year on Thai stage here with noteworthy productions.
In the year when an independent cultural center stopped its venue support for three theatre companies who became like nomads, Thai artists made more use of non-theatre spaces. Two of the year's most critically acclaimed works [Co/exist] and Blissfully Blind, having won several of IATC Thailand's annual awards including best play and best movement-based performance respectively, are proofs of their experimental and die-hard spirit also commonly shared by other troupes.
[Co/Exist] (Photo by Sirima Chaipreechawit) Blissfully Blind (Photo by Teeraphan Ngowjeenanan)
Led by seasoned actor-playwright-director Nophand Boonyai, FullFat Theatre made a triumphant debut at non-air-conditioned Warehouse 20 with his English-language play [Co/Exist], with Thai and, interestingly, English surtitles. Filled with his signature witty lines and sharp social criticism, the dark comedy tells how three groups of characters were trying to escape from their pasts but not very successfully.
Co-conceived and co-performed by Dujdao Vadhanapakorn, Thailand's only certified dance movement therapist and long-time member of physical theatre collective B-Floor, Blissfully Blind, at visual arts space Bangkok CityCity Gallery, was an experiential performance in which there is no division between the performers and the audiences, both of whom could roam almost freely in the space dominantly marked by light and sound installations. Like most of B-Floor Theatre's works throughout almost two decades—including Something Missing at Bangkok Art and Culture Centre's (BACC) 6th Performative Art Festival (PAF), their three-year collaboration with South Korea's physical theatre counterpart Theatre Momggol—its political messages were subtle and mostly conveyed by physical movements instead of spoken dialogues, fittingly under the military junta-led interim government.
All core members of the year's most prolific troupe namely Splashing Theatre Company are not yet thirty years old, and that is a good sign for the future of contemporary Thai theatre. Earlier in the year, their Thou Shalt Sing: A Secondary Killer's Guide to Pull the Trigger at the now-defunct Crescent Moon Space was inspired by Japanese cult film Branded to Kill. Then, they invited many theatre makers of their generation to create new short works set in different periods and collectively called Chrono o'Clock at, and around, Syrup the Space, another new small and independent venue. In the latter half of the year, they staged, their largest production to date with more senior actors from other groups, political drama Teenage Wasteland: Summer, Star and the (Lost) Chrysanthemum, inspired by Stephen King's It and The Body, Hajime Yatate's Mobile Suit Gundam, Hideaki Anno's Neon Genesis Evangelion in addition to late Thai political activist Chit Phumisak's writings, at another black box venue Creative Industries.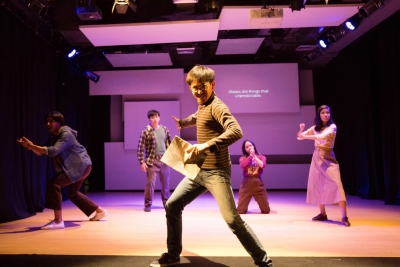 Teenage Wasteland: Summer, Star and the (Lost) Chrysanthemum (Photo by Xie Ren Jay)
Another major independent multidisciplinary venue Thong Lor Art Space (TLAS) organised a mini festival called Bangkok Theatre Festival (BTF) presenting, among others, much praised solo lecture-performance, in Thai with English surtitles, Len Likay: Play of my Life. This highly acclaimed artist Pradit Prasartthong's personal account of a modern theatre artist who worked professionally in a traditional folk theatre troupe premiered at TPAM 2017: Performing Arts Meeting in Yokohama. In addition, TLAS hosted Life Theatre Company's first English-language production of Yasmina Reza's Life x 3, with Thai surtitles; and a new song cycle 21 ¾, about recent university graduates' problems and concerns. Conceived and performed by Fascinating Four, themselves recent graduates from a music conservatory, the work was honoured with IATC Thailand's best musical award.
Len Likay: Play of my Life (Photo by Kobploy Tansahawat) 21 ¾ (Photo Courtesy of Fascinating Four)
On the commercial side, Scenario, which is also a TV production company and part of media conglomerate GMM, restaged, with English surtitles, Si Phaendin (Four Reigns), their musical adaptation of a popular novel of the same title by late national artist and prime minister Kukrit Pramoj, at their 1,405-seat proscenium playhouse Muang Thai Rachadalai Theatre. With additional scenes in which the spirit of the female protagonist appeared in the reigns of Kings Rama IX and X and more pro-monarchy interpretation, critics and audiences have referred to it as Hok Phaendin (Six Reigns). Another prominent company Dreambox staged a new translation, by Thailand's most prolific playwright Daraka Wongsiri, of Twelfth Night at their 821-seat proscenium playhouse M Theatre. Thanks to the script that aims to communicate with the present-day audience in this semi-colonial state and the veteran performers who are not intimidated by the slightly heightened language, the Thai audience realises that Shakespeare may probably be, as Jan Kott wrote, Our Contemporary.
Si Phaendin (Photo Courtesy of Scenario) Twelfth Night (Photo Courtesy of Dreambox)
Having been called off in 2016 due to the death of King Rama IX, Bangkok Theatre Network's (BTN) Bangkok Theatre Festival (BTF) returned in November, with BACC as its hub in addition to many other studios. BTF's new section, namely Bangkok International Performing Arts Meeting (BIPAM) attended also by scores of foreign producers, programmers and artists and how BTN had efficiently prepared the local artists and audiences with many pre-festival activities, proves that BTF is no longer just an annual informal gathering of Thai theatre artists, but always engaging theatre lovers here and overseas. The fact that IATC Thailand gave many of BTF 2017 awards to foreign artists is quite surprising, if not alarming for Thai artists, though. For example, four awards were given to M.O.V.E. Theatre's (Taiwan) Kuang Qi, a queer music theatre adaptation of Peony Pavilion and The Butterfly Lovers, and the best play award to Japanese playwright-director Oriza Hirata's Bangkok Notes, tradaptation of his Tokyo Notes.
Bangkok Notes (Photo by Teeraphan Ngowjeenanan)
In the end, these examples of Thai stage works in 2017 show more complex, and realistic, images of contemporary Thailand, with the relationships between and among traditional and modern; local, foreign, and glocal; as well as intercultural and intra-cultural. Perhaps it is about time Hong Kong Arts Festival invites a work from Thailand so that Hong Kong audiences know they can do more than eat, shop and chill there.
Now back to food metaphor, the Thai restaurant in Bangkok I have visited most often and always taken my foreign friends to—and these include artists who have performed at the nearby Sodsai Pantoomkomol Centre for Dramatic Arts, like the English cast and crew of The Globe Theatre's Hamlet and the French and Japanese of Seinendan Theatre Company's The Metamorphosis (Android Version)—is See Fah, which has an outlet in Tsim Sha Tsui. An evidence of Thailand's multiculturalism probably, this is where one can have Shumai, Char Siu Bao, porridge, or their all-time favorite rice with chicken stew topped with a fried egg for breakfast, and more Thai and international choices for lunch and dinner, including Tomyam Kung, American fried rice, pork satay and Cantonese-styled roast duck. It is also where IATC Thailand has our monthly meeting which often lasts until the closing time, 11pm.
And so, welcome to the "Land of Smiles", and if you'd like to see what the Thai audience is actually watching on stage, please visit www.BangkokTheatreFestival.org, which, despite its domain name, is being updated year-round. And even though Thailand was never a British colony, all contents are in both Thai and English, the latter with some typos and grammatical errors of course. And to read some of reviews by IATC Thailand members, please visit www.facebook.com/IATC.Thailand.
本文章並不代表國際演藝評論家協會(香港分會)之立場;歡迎所評的劇團或劇作者回應,回應文章將置放於評論文章後。
本網站內一切內容之版權均屬國際演藝評論家協會(香港分會)及原作者所有,未經本會及/或原作者書面同意,不得轉載。