2019年10月
This essay deals with how the contemporary theatre in Turkey speaks to the current political situation, and how theatre responds to and reflects the ever-increasing anti-democratic and oppressive politics prevailing in the country. But on the other, it attempts to trace how it has the potential to change our way of seeing the present and how it makes the audience feel a bit of hope and a sense of solidarity in face of the oppressive mode of everyday politics in the country.
It is possible to trace the reflection of a conflicting socio-political atmosphere of the country in almost every new performance from the season. What I see as the apparent reflection of the political turmoil to the theatre is the increasing of dystopian narratives[1] in which the daily experiences become nightmares.[2] In the following, I will introduce one example of this increased "dystopian narratives", based on a humorous and feminist approach, illustrating the living experience in today's Turkey: Now You Have a Trial (Artık Bir Davan Var, 2018-2019) staged by Boğaziçi Performing Arts Ensemble (BGST) and premiered at Istanbul International Theatre Festival in 2018.
Now You Have a Trial
Now You Have a Trial satirizes the present situation as a consequence of a series of events the country has experienced under the two years of a state of emergency, between 2016-2018. Many people have been tried and imprisoned as alleged. Academicians have been dismissed from their institutes because of signing the declaration of "Academics for Peace", a solidarity group, which is organized to draw attention to the civil deaths in the south-east of the country. Journalists, intellectuals, artists and politicians have been arrested for criticizing the government and labeled as traitors, adding to an increasing number of people arrested and being tried for sharing opinions against the authorities on social media. As a consequence of what has happened and has been still happening in Turkey under AKP's rulership, now the dominant feeling in the country is that the Turkish society has been polarized into two sharply divided camps: those who support the ruling party and those who do not. Now politics is not something outside our lives, but prevails just as much in private, even the daily relationships between people.
Written by Cüneyt Yalaz and İlker Yasin Keskin (actors of BGST), Now You Have a Trial illustrates the injustices, fear and pressures in a series of absurd events happening in an "unknown place and time". Though the theatrical language of the play is a combination of grotesque, satire and black comedy, it is also quite realistic, because the absurdities in the play remind us of what we have been through recently.
The action takes in an unknown country where frequently electricity has been cut off for years; where the stories that children listen to on the radio are, therefore, interrupted; where the people can be plunged into darkness at any time. There is no continuity to actions in this unknown country. In this dystopian place, a lawyer tries more than a thousand cases, judges are constantly dismissed from their positions, lawyers are put in jail even before their clients, and social media accounts are blacklisted. Every action, voice or person opposing the system is charged and tamed, or else exiled.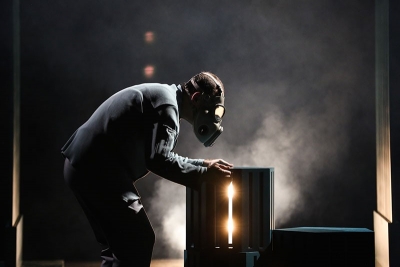 Now You Have a Trial (Artık Bir Davan Var), written by Cüneyt Yalaz and İlker Yasin Keskin, and staged by BGST. (Photo: Kenan Özcan)
It begins with the main character (reminding one of Kafka) Mr. K's rehearsal of a "marketing story" in his flat at a night. Mr. K (performed by Özgür Eren) is not only a public relations officer at a generator firm, but he also has to be a good storyteller and writer to sell the products. Unexpectedly when he rehearses his last marketing story about the power cut, ironically the same thing happens to him. The electricity is cut off and two policemen (performed by Cüneyt Yalaz and İlker Yasin Keskin) enter into the house to query Mr. K for a trial, although no one knows why. He does not know if he is guilty. All he knows is "now, he has a trial". During the play, we see his "legal struggle" in this unlawfulness where he does not know what he has been charged with. Toward the end, we learn that his crime was to support a solidarity company with the children in a civil war territory and to send his childhood marbles and slingshot to them. The court thinks his action encourages the children to become terrorists, and thus he is being charged with aiding and abetting. In the end, the court learns that supporting the children was in fact the idea of Mr. K's twin sister Melek (meaning angel), who will be sent into exile at the end for criticizing the authorities.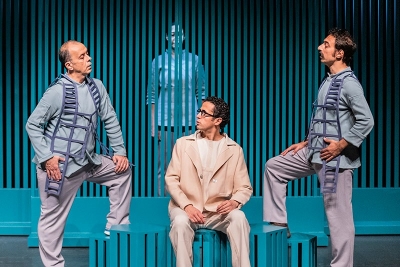 Mr. K is being querred by police. From left to right: Cüneyt Yalaz (police chief), Duygu Dalyanoğlu (officer), Özgür Erenat (Mr. K sitting at the center of the center), and İlker Yasin Keskin (police). (Photo: Kenan Özcan)
The action mostly takes place in Mr. K's flat, in his working place at a plaza, in the elevator, and in the court. Mr. K is an embodiment of everyone who is at the threshold of such a dystopian universe. Now You Have a Trial offers an opportunity of solidarity—the main idea of the play. To make visible this idea in scenography, the play combines taborets in the shape of hexagons, in a miraculous geometric shape. In doing so, it creates a new space in which the idea of solidarity and hope, and new forms of relationship emerge from the heart of this dystopia. Because the only way to get free from such fear and tyranny is solidarity, as Melek says, "You are not alone, go and find others like you, be with them, resist, bear, and act with solidarity."
Mr. K becomes the subject or the victim of his own story, as he tries to sell the generators with a nostalgic childhood story. On the other hand, BGST presents the possibilities of how to deal with such lawlessness. In opposition to the artificial stories produced by and happening to Mr. K, BGST shows us how we may create together more authentic, real and inclusive stories. In the final scene, Mr. K is in fear and cannot speak to the court. Melek is exiled by the court and yet she says, "Do not be afraid. If you don't want it, they cannot exile me. Tell me. Do you want me to stay with you or not? I am an angel. In any case, I may find a way to come back, unexpectedly, suddenly. I will come again."
What is being exiled here is, thereby, not only Melek, but what she represents: inner conscience, struggle, hope, solidarity and courage in face of the current polarized and oppressive politics. It is also remarkable that BGST's feminist approach here gives this crucial role to a woman named Melek who has a natural lisp. She is, thus, not only the representative of the women whom we might not yet hear much in social life but also those of who are deprived of the right to speak and thus those of who are not heard and seen yet.
In Turkish, "trial" (dava) has multiple meanings: "trial", "case", "goal", "aim", "to struggle for a better world", and "to die for an ideal". Thus, at the end of the play not only the silence of Mr. K but rather the silence of each audience member points that now we all have a "trial". I think "having a trial" and also whether we are the active subject or the victim of this trial depends on which Melek we see at any electricity cut-off, in any dark times of the country, and of course what we say to her: Live with us, or leave us. Alongside its dystopic atmosphere, Now You Have a Trial, as other increased dystopian narratives from the last season, portrays a hopeful outlook for the women and youth of Turkey as long as we get in solidarity in face of political oppression.
---
[1] Some are quite remarkable among a variety of productions presenting dystopian narratives from the last season. Examples include: Artık Bir Davan Var (Now You Have A Trial, staged by BGST); Hakikat, Elbet Bir Gün (Truth, A Day for Sure, written by Berkay Ateş, directed by Serkan Salihoğlu and staged by D22); Seni Seviyorum Türkiye (I Love You Turkey, written by Ceren Ercan, directed by Yelda Baskın and staged by Bakırköy Municipal Theatre); Teftişör (Inspector, a re-written of Gogol's book, written by Irmak Bahçeci and Oğuz Utku Güneş, directed by Oğuz Utku Güneş and staged by Tiyatro Adam); Kazanova (inspired by Dürrenmatt's novel Traps, or known as A Dangerous Game, written by Irmak Bahçeci and directed by Emrah Eren).
[2] Alongside the "dysptopian narratives", other models based on the repeated motifs include which I would call as follows: "Narratives of loneliness", almost all monodramas from the season; "dramaturgies of sleeplessness", some adaptations of Shakespeare tragedies and Turkish novels; "dramaturgies of interruption and redemption" focusing on recent history, particularly what possibilities were missed or lost in early twentieth century, the period between collapse of Ottoman Empire and foundation of new state of Turkish Republic.
本文章並不代表國際演藝評論家協會(香港分會)之立場;歡迎所評的劇團或劇作者回應,回應文章將置放於評論文章後。
本網站內一切內容之版權均屬國際演藝評論家協會(香港分會)及原作者所有,未經本會及/或原作者書面同意,不得轉載。