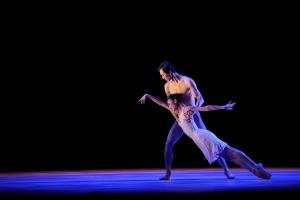 Which animal has red eyeballs that blink to music? Roasted baby pig! Who kills the enemy by shooting laser from his eyes? Eva of Neon Genesis Evangelion (the popular Japanese anime 新世紀福音戰士 ). These are easy questions for local 3-year-olds. In Hong Kong Ballet's new Nutcracker, they did see Rats with eyes like that. Australian choreographer Terence Kholer has "painstakingly crafted this version for Hong Kong" 1 which premiered on December 14, 2012 at the CulturalCenter.

On foreign lands where it does snow on Christmas, the ballet has prevailed for 120 years. As an introduction to classical ballet for children, it captivates them with magic and excitement, and forms the basis for a lifelong love of ballet. In fact, The Nutcracker is so popular that it has expanded into other art forms: films, drawings, children's songs, books, etc. Back home, the previous Stephen Jefferies version has nurtured young audiences for 15 years. So how do the company revive a classic for the new generation? With every major company around the world owning their distinct versions, how does an Australian choreographer tailor a version forHong Kong?

The answer was revealed at the opening: Rat King froze the Nutcracker by shooting laser from his red eyes. Other than this, the Stahlbaum family still lived in a 2-storey mansion, the snowflakes still waltzed – all very distant from aHong Kongchild. To get closer to the local audience, Kholer undertook a research journey,

"When we were meeting people here, the older generation were a little worried that their legacy was disappearing, so they were taking us to colonial buildings. Then I thought that might be a lovely way to marry the past and present of Hong Kong. So we decided to bring in some essence of the colonial period. That's why the story now takes place in the post-Victorian Era, and we made costumes that are exaggerated in large forms." 2

This is obviously a stretched answer. First, colonial buildings are simply part of a standard itinerary; visit any ex-colonies in the world, one is bound to sightsee a few. Second, even if the costumes are justified, what about the plots, characters, movements, sets, etc? How do all these relate to a contemporaryHong Kongcontext? How does this new version measure up to its predecessors or shine on its own merits?

Some overseas predecessors have indeed shone on their local / national merits. Take the Swedish Royal Ballet version for instance: choreographer Par Isberg spices it up with a Swedish flair. Drawing upon a popular children's book by Elsa Beskow, the main characters are changed into orphan siblings Petter and Lotta; the romantic relationship between the charcoal burner turned Prince and the housemaid turned Princess . The dance features folk forms derived from traditional tree-cutting rituals and dinner party preparations. The live nutcracker doll is dressed in national costumes as a traditional gift-bearer in a straw goat's mask! 3 Every detail offers a taste of Swedish Christmas that the troupe take pride in and own as unique. The familiarity thus conjured also facilitates understanding for the show's primary audience: children.

InHong Kong, the McDull family might have worked to the same effect, instead of a blonde mother and a big-beard father. "I thought they belong to another species from a different planet!" my niece, aged 4, recalls her first encounter with gweilos. Such "otherness" inevitably prevents the young audience from identifying with the characters and vicariously experiencing their emotions. After all, the suspension of disbelief is built upon theatrical make-believe.

Localization is not to be taken at face value, however. A Bruce Lee scream or Jackie Chan kick alone don't make a Chinese dance, not to mention the tea dancers' moustache that fit in better with Hollywoodstereotype than reality. Cultural understanding is insight into a society; it goes deeper. From his field trips and interviews with locals, Kohler did discover the essence of Hong Kong Christmas: people experience Christmas atmosphere in shopping malls! 4 A good start no doubt, but it didn't quite develop in execution. To be fair, the Sydney-born choreographer has never visited Hong Kong before, and at 28, is probably too green-handed to lead a grand classical revival. Then the question becomes why there are no local talents? Why does Hong Kong art invariably rely on gweilos? Our education system is in question.

Educational value is a key element in the Mariinsky version: Rat King is portrayed as Napoleon just like the spoilt Fritz; and the fairyland is filled with candies and pastries devoured by flies, along with doctors ready to pull out rotten teeth or cure sick stomachs. These are scenarios children know like the back of their hands, so parents can guide their interpretation and help them learn.

Void of educational value and Hong Kongidentity, can this new Nutcracker stand on its artistic merits? Not quite. Dramaturge Clair Sauran took away the love story between Clara and the Nutcracker. The idea made sense, considering a doll-hugging child is too young for love; moreover, the doll was originally given to Fritz. However, it made her heartbreak over his "death" less than convincing. Despite Fritz's consolation, the sobbing girl repeatedly threw herself upon the frozen doll – five times! As awkward a love triangle as it appeared to be, the siblings' push and pull eventually developed into a romantic duet, duh… When the choreographer and dramaturge don't see eye to eye, the result is movements incompatible with story-telling.

As the Nutcracker came back to life, he engaged his real love, the ballerina, in the grand pas de deux. Reduced in lift, balancing and pose en manage, the choreography was already less technically demanding than, say, the Royal Ballet version. When danced by Jin Yao and Wei Wei, there were even more compromises in smoothness, precision and coordination – a partnership as fragile as puppet love.

The main characters didn't shine, and the corps de ballet didn't blossom either. The Waltz of Flowers, short of box steps and a slow-quick-quick pattern, sacrificed all the swaying romance and circular dynamics called for by a waltz. In fact, the steps could easily fit in with a 2/4 or 4/4 march instead. The arid grouping i.e. four girls in square shapes, saw no variation throughout the six minutes, much the way a painter in mental gridlock draws only squares and no other motifs.

Magic or not, the family-friendly festive ballet is solid box office gold. In fact, companies around the world rely on this "Christmas gift" to fund other productions throughout the year. However, a cash cow doesn't shield it from public scrutiny and artistic criticism. Just because the Rats are equipped with blinking red eyes of roasted pigs, it doesn't qualify as aHong Kongproduction. Just because the parents drag them along, it doesn't mean the kids are getting the enjoyment and education they deserve. Just because the classic has survived 120 years, it doesn't automatically pass down high artistic value – or magic. There is no taking for granted in art, especially when its primary responsibility is to groom our future generation.

References:
1. House program
2. Promotional video "The Making of The Nutcracker"
3. Review by the New York Times and various sources
4. Interview during Backstage tour