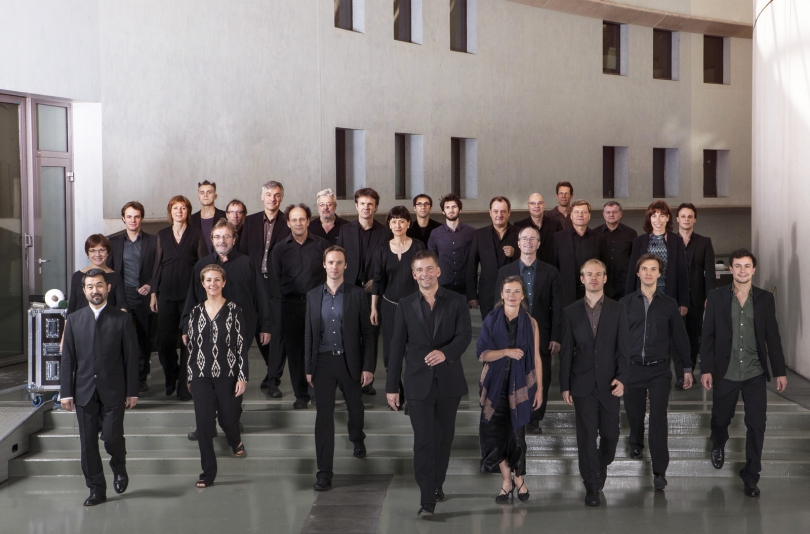 It is no accident that the word avant-garde is French—France was at the heart of modernism in the 20th century. The Ensemble intercontemporain was founded by French composer Pierre Boulez in 1976 as a venue for creating and promoting contemporary music in conjunction with the electronic music institute IRCAM (Institut de Recherche et Coordination Acoustique/Musique).
For those who enjoy innovative, cutting-edge art, this icon of modern music has no equal. Its repertoire contains more than 2000 pieces from the early 20th century to the present day, and more new works are premiered each year. The 31 players collaborate with composers to explore instrumental techniques, interweaving music, dance, theatre, film, video and the visual arts. Like the Bauhaus school of architecture, one of the inspirations for IRCAM, the ensemble has clean lines and impeccable technique as its aesthetic.
Music director and conductor Matthias Pintscher is also a prolific composer, intertwining the two roles—composition giving musical insight to the conductor, and conducting giving practical experience to the composer. His piece, whirling tissue of light, for solo piano, promises to be dramatic:in the words of critic George Slater-Walker, "the whirling light screamed around the piano to thrilling effect."
This year's New Vision Arts Festival will present the group's Hong Kong debut. The programme will include three generations of composers: Arnold Schoenberg, a father of musical modernism, born in1874; Franco Donatoni, Boulez and György Ligeti, all born in the 1920's; and Matthias Pintscher and Bruno Mantovani, both born in the 1970's. They will also perform a new piece by a Hong Kong composer who has been chosen from a call for scores.
The oldest piece on the programme, Schoenberg's Chamber Symphony No.1, Op. 9, was written in 1906, after his late-romantic works, such as Verklärte Nacht, but before he developed his influential serial technique. Schoenberg could easily be compared to his fellow Austrian Sigmund Freud, both exploring the underside of the psyche and bursting open the conventions of their day. Although this early work still has Brahmsian phrasing, its quick transitions and unpredictable harmony give it an unmistakably modern, war-torn flavour.
György Ligeti had a traumatic youth in Hungary during the Nazi regime but surmounted his circumstances to write luminous and ground-breaking compositions. His Chamber Concerto for thirteen instrumentalists, inspired by the Schoenberg work above, was written in 1969-70 using "micropolyphony", tiny whirling figures layered in multiple lines. It requires great precision from the players to create his disembodied, almost electronic sound. But his aesthetic sense also has a human touch, a haunting expression that explains why his music has been used for iconic soundtracks such as that for 2001: A Space Odyssey.
Boulez studied mathematics before becoming a musician, and this logical mind-set is evident in his abstract, elegant and austere music. His Mémoriale (…explosante-fixe…Originel), for flute and eight other instruments, originated as a memorial on the death of Stravinsky. After going through several versions using electronics, it developed into a work for solo flute with chamber ensemble. With characteristic French understanding of the flute's colours, the music has a fragmented texture and a delicate backdrop of muted instruments supporting the flute's tremolos and flutter-tonguing.
Franco Donatoni, who lived from 1927 to 2000, was also in that second generation of 20th-century composers. His own artistic struggles can be felt in his music, where short, athletic ideas seem to jostle for space. As he said, "what constantly guides my thinking, without the help of my will, is doubt and negation." He was influenced by the serial techniques of Schoenberg and Boulez, and was also intrigued by the chance procedures of John Cage. With a self-deprecating wit, he said, "I was quite academic: up to the age of 30 I copied Bartók; after meeting Maderna I copied Boulez; then I became interested in John Cage, I had my negative period…." However, he saw his compositions as linked to one another, and often reused musical ideas in new contexts. His piece for twelve instruments, Tema, uses material from L'Ultima Sera, a work for voice and ensemble.
Also on the programme is music of French composer Bruno Mantovani, Les Danses interrompues for six instruments, a "large, rhapsodic, playful divertissement" with influences from jazz, techno and flamenco music.
作者簡介:Alexis Alrich's compositions are influenced by French impressionist music, minimalism and Asian music. She is also a classical music critic for the South China Morning Post.
英文編輯:Ernest Wan
照片提供:康樂及文化事務署 (攝影:Franck Ferville)