Looking back on the year in performance is, like everything in 2020, a new and unusual exercise: I can practically count on two hands the number of live performances I saw over the last 12 months. And while it is tempting to look back on that work—confident, daring, playful, bold—as a standard we can return to post-pandemic, it's a much safer bet that theater in 2021 will not be defined by any trend we knew or could anticipate pre-Covid, but by digital: the genie that is not going back into the bottle, for reasons that intersect health, economics, technology and art.
Actually, that's not a bet: it's where we are already, and deciphering what that means is already a challenge: the new forms that are emerging are not contained to the old geographies—the scene in New York, Paris, Melbourne or Taipei—or genres. This digital age of theater has worldwide reach and is looking for the next new way of connecting virtually.
Jay O. Sanders, Maryann Plunkett, Sally Murphy, Laila Robins, and Stephen Kunken (clockwise) in the livestreamed world premiere of the Apple Family Play, "What Do We Need To Talk About?"
(Photo courtesy of The Public Theater)
There was an initial foray into digital that was meant as a rapid response to the pandemic's paradigms: The Public Theater in NYC commissioned Richard Nelson to write a new chapter in the Apple family saga, "What Do We Need to Talk About?" (which finds the family working through layers of shock during a Zoom cocktail) as well as "The Line," that creators Jessica Blank and Erik Jensen wrote from NYC healthcare workers' testimonies. These plays about the age of Covid need Zoom to be credible documents of the times we are living in. Since those early, raw moments however, I want to see artists think creatively about the platforms they use: they can't just be a medium of last resort to get work out to audiences.
By that criteria, I was disappointed by Danya Taymor's Zoom version of Will Arbery's "Heroes of the Fourth Turning," which Taymor directed to great praise in 2019 at Playwrights Horizons in NYC. Arbery's searing play about young, Trumpy Catholics trying to find their place in society or bend it to their will became even darker and more belligerent on Zoom; the characters' windows seemed to be metaphors for their isolation and entrenched positions. But the play's naturalistic premise of a school reunion was an afterthought in the digital version, and that disconnect lost for me what was gained by reprising the work in the runup to the November elections.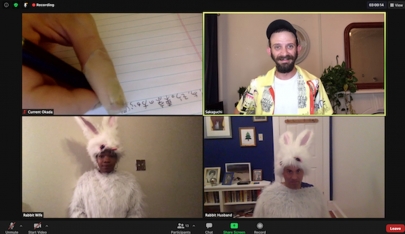 Toshiki Okada's "Zero Cost House"
(Photo courtesy of the blogcritics.org)
Pittsburgh's Pig Iron Theatre also chose to bring back a production that deserved another hearing in 2020: Toshiki Okada's "Zero Cost House" (2012) about Okada's fascination with On Walden Pond, Henry David Thoreau's once best-selling, then quaint, now suddenly prescient call to live a simple life separate from human society and its plagues of capitalism, industry and other people. Like Arbery's "Heroes," Okada's text is a play of ideas, meant to examine an issue rather than develop a narrative. While director Dan Rothenberg's Zoom version found ways of keeping energy in Okada's fantastical elements (which include a dialogue with Thoreau and talking humanoid bunnies), the playfully zen production asked a lot of multitasking audiences: namely to sit in a meditative state on their devices for over two hours.
Satoko Ichihara's "Underground Fairy," an absurdist story about young women's agency and sexual awakening is, like "Zero Cost House," an uneasily classified text that also defies stage genres, so that Zoom has as good a chance as any medium to translate a kooky story that involves lots of farting and a giant mole. Director Tara Ahmadinejad kept the mood dark in a production commissioned by Japan Society NYC but she also didn't shed much light into the playwright's intentions: a missed opportunity as Ichihara is a major voice of her generation in Japan. Zoom couldn't really transport us from our couches into Ichihara's strange world.
Work that directly engages its chosen platform is proving more satisfying as digital performance. NYC writer/actress Eliza Bent conceived "Karen I Said" (a tongue-in-cheek response to white American women's resistance to, or willful ignorance of, racial and social justice questions) as both a pre-recorded Instagram story and a send-up of a Zoom conference, with audience participation. Bent turns her keen ear for spoken language to white people's linguistic gymnastics as they try to talk about race but what may serve her best in the digital age is her laser-sharp dissection of media genres.
Celine Song's "The Seagull on The Sims 4"
(Photo courtesy of New York Theatre Workshop website)
Celine Song's "The Seagull on The Sims 4" shares something of Bent's quirky, try-it-and-see-if-it-sticks chutzpah. The show, a commission by New York Theater Workshop to rethink theater in the pandemic, was a live streamed transposition of Chekov's play into the iconic life simulation game. During the almost six hours performance, Song designs the characters (doing a neat stint as casting director and costume designer rolled into one), chats with friends who call in, interacts with her madly enthusiastic audience and tries to prod the "cast" into advancing Chekov's plot without using cheats. Since that is no easy feat, the show is much more a reflection on The Seagull's themes and characters than a scene-by-scene performance but it's fascinating to learn what gets Song so jazzed about both Chekov's play and gaming that she would combine them. The show may finish 2020 as the most watched digital theater production of the year: to date it has had over 60,000 views on Twitch.
Boston's Arlekin Theater proposed to dig into gaming as well in "State vs. Natasha Banina," performed by Darya Denisova about a teenager defending herself in court against murder charges; the audience plays the jury and decides Natasha's fate. The production uses some magical animation wands to illustrate her mental state but the debate I was expecting at the end of Denisova's monologue was replaced by a Zoom poll: in less than a minute the audience had found Natasha guilty and the virtual curtain came down.
TheaterWorks Hartford pushed further, placing audiences inside the computers of the characters of Sarah Gancher's "Russian Troll Farm" about a unit of hackers feeding inflammatory narratives into Americans' social media feeds prior to the 2016 presidential election (the performances ran just days before the 2020 election). Tweets pop up so fast on our screens we can barely follow them, as the hackers gaze back at us, typing furiously. But we also discover their inner mindscapes through cinematic sequences and animation that borrows from fantasy gaming, so that the play reaches well beyond the Zoom frame.
That sometimes feels welcomingly intimate, but in the age of social distancing, it is radical intimacy that may yet take off in lockdown. The Istanbul/NYC company Sister Sylvester offers its own take: "Read Subtitles Aloud" asks you to play a pre-scripted role as the creative/love-interest of a group of friends trying to make theater in a pandemic. The show has 13 serial chapters each lasting around 10 minutes: a fun and sexy, easy to schedule role-play that will have you kissing your computer screen.
Looking back on 2020, the title of that first Zoom play I saw captured the tenor of all the works that followed, each asking in its own way: what do we need to talk about, now? Loneliness, death, fear, division, injustice, disinformation and theater: it's been a helluva year.
Writer's bio: Molly Grogan is a theatre critic currently based in Hong Kong. She spent 25 years in Paris and New York City, where she was the Off-Broadway editor for Exeunt Magazine and a theatre critic for The Village Voice.