"If we visited Mars or Venus keeping the same senses, they would clothe in the same aspect as the things of the earth everything that we should be capable of seeing. The only true voyage of discovery, the only fountain of Eternal Youth, would be not to visit strange lands but to possess other eyes, to behold the universe through the eyes of another, of a hundred others, to behold the hundred universes that each of them beholds, that each of them is." Marcel Proust, Remembrance of Things Past
In late February, Hong Kong was shut down by Covid-19, devoid of arts programming, running a fiscal deficit and warily watching as the coronavirus was starting to unleash itself on Europe. It was the perfect moment to investigate what new set of eyes performing arts curators and presenters in the region could be training on the disruptions wrought by the impending global pandemic. I went to Melbourne to investigate.
The impetus was Asia TOPA, only in its second edition this year. The three-month long festival, whose name is shorthand for Asia-Pacific Triennial of Performing Arts and which encourages regional artistic exchange and new creation, did not disappoint. Asia TOPA boasts an eye-popping range and quantity of work and perspectives, with 960 artists from 22 countries and regions this year, 351 performances across all genres, and 23 new works commissioned by the festival.1
During the four days I spent in Melbourne, I saw a whopping 17 shows (another that I had planned to see, from China, was cancelled due to travel restrictions). That logistical feat was made possible by the festival's continuous scheduling but also by the number and proximity of the city's cultural venues, many only a short walk from Arts Centre Melbourne, which is a foundation partner of the festival, along with the Sidney Myer Fund, a major philanthropic organization in Australia.
A sense of the festival's scope as well as the social and cultural possibilities of an ambitious urban arts infrastructure may be gleaned from my schedule on a single day at Asia TOPA (walking between all venues):
9 am: National Gallery of Victoria: 3 exhibits, on Japanese Modernism, contemporary photography from China, and by Iranian filmmaker Shirin Neshat;
11:30 am: Malthouse Theatre: reading in Mandarin and English of a planned stage adaptation of Hao Jingfang's sci-fi novelette Folding Beijing, adapted by Australian playwright Daniel Keene;
2 pm: Arts Centre Melbourne: "Torch the Place," writer/director Benjamin Law's comedy-drama inspired by growing up Hong Kong Chinese in Queensland, in Cantonese and English with a Chinese-Australian cast;
4 pm: back to the NGV for a Keith Haring/Jean-Michel Basquiat show (not part of the festival but I couldn't resist);
5 pm: Victorian College of the Arts: "The Seen and Unseen," sublime Balinese dance performed by seven child dancers of Komunitas Bumi Bajra under director Kamila Andini and choreographer Ida Ayu Wayan Arya Satyani;
Are You Ready to Take the Law into Your Own Hands © Sarah Walker
7:30 pm: Arts House (North Melbourne): "Are You Ready to Take the Law into Your Own Hands" by Filipino collective Sipat Lawin and Friends and Australian theater artist David Finnigan (one of my festival favorites: a madcap police-and-thieves dash through Manila's pop culture and the city's pulsing streets on video; the audience, with many Filipinos in attendance, went bonkers).
That same Saturday, Arts Centre Melbourne had over 15,000 paying audiences in attendance (the festival grossed nearly 66,000 before the pandemic hit). On a glorious late summer weekend with families and arts patrons thronging the neighborhood, I can confirm there was a serious buzz in Melbourne's Southbank that day.
Stephen Armstrong, Creative Director of Asia TOPA
Stephen Armstrong is the Creative Director of Asia TOPA and its founding/resident visionary. With Associate Director Kate Ben-Tovim, he has grown the event from an Asian satellite meeting of IETM in 2014, into Melbourne's coolest performing arts festival. He managed this even while working within the structures of Arts Centre Melbourne, which, as the home of the Australian Ballet, Melbourne Symphony Orchestra, Melbourne Theatre Company and Opera Australia, might strike hipster Melbournians as somewhat hidebound.
Stability and continuity were necessary to get Armstrong's idea for a regional arts festival off the ground, however, and a consortium of an additional 14 of Melbourne's largest arts institutions were early partners. Nevertheless, as Armstrong described to me in two interviews after the festival was shut down by Covid-19 in March, a key to Asia TOPA's success at attracting Melbourne's artistically adventurous audiences is its collaboration with over 40 presentation partners and a team of international curators, who together form a vast network of trendspotters across all disciplines. As important as institutional partners may be, he said, "Cultural currency will outlast, outwin, outvote any amount of money."
Asia TOPA's mantra, and what it may do more thoughtfully than other festivals of its size, is "engage with artists," a mission Armstrong hammered home many times during our discussions. A unique feature of the festival, made possible by its three-year lead-time, is a series of creative labs that foster collaboration between creatives from the Asia-Pacific region and Australia, including (and importantly) indigenous artists. No production-ready work has to come of these; the purpose is simply to give artists the resources to create and the opportunity to discover Melbourne as the locus of their eventual productions.
It was also, Armstrong explained, to have a different conversation from the get-go, one that "was around contemporary practice and the working lives of artists in different places and how could we reduce the obstacles and the barriers for people working together," rather than buying existing productions from abroad that may be "very exciting but [have] no context."
Indeed, context is everything in Asia TOPA. Armstrong's team works hard to be as inclusive as possible of Melbourne's diaspora communities, through what he describes as "a very different set of programming decisions."
He explained, "What we discovered after the first Asia TOPA was that the act of communicating and reaching out is part of the producing, not the marketing."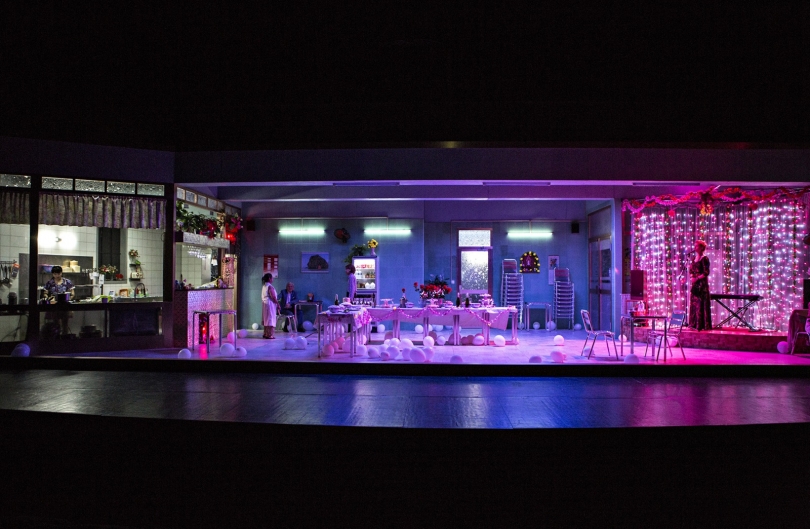 Saigon HERO © Jean Louis Fernandez
Accordingly, bringing a show such as Caroline Guiela Nguyen's family saga, "Saigon" (a critical and popular sensation since its premiere at the Festival d'Avignon in 2017) to Asia TOPA, did not mean relying on the show's reputation to fill the house. Armstrong hired a consultant from Melbourne's Vietnamese community to help his team understand its history, concerns, social and cultural life, and power brokers.
"You can't just market to the community," he told me with the tiniest hint of eye-rolling. "Why should they believe you? They're not on your mailing lists, they're not on your website, they're not reading ads in the same English language newspapers that everyone else is. Marketing is not the objective; it's winning their trust."
For Melbourne's descendents of South Vietnamese refugees, many of whom arrived in 1975 when Saigon fell to the Viet Cong, that meant first of all dispelling their fears that the arrival of the show's Vietnamese cast would "bring the Communists" to Melbourne. Armstrong recounted this with a rueful laugh, acknowledging that, while vital to Asia TOPA's ethos, building marketing in this way, from the ground up, is "very time consuming." Proof that the approach works, however: 50% of ticketed audiences this year identified as from culturally diverse backgrounds.
By mid-March, when Australia's state of emergency was declared, Asia TOPA had delivered 80% of its programs. Setback or stroke of luck: neither conclusion gels with Armstrong's seemingly innate buoyancy; in fact, he is one of the rare optimists about the future of the performing arts in the post-Covid era. He moved quickly to commission artists present in 2020 to create free-form mini-documentaries about the experience of making and performing their work, even inviting viewers into their homes. "I'm really looking at [the digital content] from a very simple, humble, human, people perspective as well as the more sophisticated crafting of ideas," Armstrong emphasized.
And rather than wait to start the next round of creative labs in person, the festival has initiated six Virtual LABs exploring live art, feminist-punk-sonic music, documentary and participatory theatre and digital/sound sculpture/installation with artists from across the region, including Hong Kong artist Zheng Bo.
"That's probably the most exciting thing, from my perspective," he continued. "And it's a direct response to Covid, so it's really part of that dialogue with the present, which is what I'm really interested in. I find that exciting."
Podcasts of 2020 Asia TOPA talks are currently available on the Arts Centre Melbourne site, and five mini-documentaries will go live on July 12. Artists in the Virtual LABs will have three months to explore with each other (rather than 10 days, as was the case pre-Covid), and the results will take the form of a short film by a digital artist, ready in October or November. Armstrong has given the LAB artists carte blanche; content could document the creative/collaborative process or formally present new work, but he says he is "especially interested in the impact that reconfiguring time will have" on what they create.
Seeing with the eyes of artists and not through the key performance indicators of producers and presenters is surely a new way of looking at the mission of any arts festival. Why don't more arts leaders share that perspective? Genuine investment in artists, what Armstrong described as "honoring" artists, is expensive of course, and the economics of the pandemic will make arts subsidies an even harder sell. Or maybe, in our region, it is because seeing through the eyes of Asian artists shifts the focus from Europe, the traditional seat of arts power and influence. That attitude was "killing" Australian art, Armstrong said, and was the reason why he first started to help Australian artists find collaborators in the region, rather than watch them decamp to Europe.
One of the exculpatory refrains about Covid-19, repeated by politicians, health officials and economists, is that "we couldn't see it coming." Yet what is possibly the pandemic's greatest lesson is that we could; we just didn't see it with the right set of eyes. In Armstrong's experience, solutions to the fundamentally new paradigms we are suddenly confronting will be found by the artists; we need only let them take the lead.
"Having a big conversation with a diverse group of artists is the only way you are going to arrive at possibilities for how to predict work and engage in this situation. That's my view," he concluded, with total conviction.
The time is ripe for seeing anew.
照片由作者提供
作者簡介:Molly Grogan is a theatre critic and translator currently based in Hong Kong. She spent 25 years in Paris and New York City, where she was the Off-Broadway editor for Exeunt Magazine and a theatre critic for The Village Voice.
1 In addition to the Asia Pop Fest of contemporary music from across the region and a slew of free public workshops, art exhibits and installations on themes from surveillance to food fermentation to infant play, the performance offerings included: circus, anime, video and computer-generated visual soundscapes, music (classical, heavy metal, electronic, traditional throat singing, Sufi spiritual singing), dance (contemporary, hip hop, butoh, Balinese children's dance, Likurai dance from Indonesia, Chinese line dancing) and theater (monologue, comedy, drama, participatory, hallucinatory, devised, dinner, action adventure…). The lineup included productions by Hong Kong Repertory Theatre (a reprise of "Oedipus Schmoedipus," with the Australian collective known as post) and Shax Theatre Group ("The Winter's Tale," with students from La Trobe University in Melbourne).