文:Victor Fan
On 1 and 2 December 2018, I had the honour to work with 15 exceptionally talented young film critics from the Youth Jury and Critics Programme of the Singapore International Film Festival (SGIFF). It was the second time I had served as Mentor for the programme. These emerging critics left an indelible mark on my memory and on my career as a film scholar and film festival consultant.
Top film festivals around the world––including the Hong Kong International Film Festival, the BFI London Film Festival, International Film Festival Rotterdam, and the Far East Film Festival (Udine)––were initiated by cinephiles and film critics. While all of them celebrate the achievements of cinematic auteurs and provide a forum for industry people to conduct business, none of them offers a training programme for aspiring film critics. Film criticism is an integral part of the film industry. Film critics not only offer feedback to filmmakers, but also help promote their works to the audience. Film reviews often stimulate interests among viewers to go to the cinema or provide insights into how a "difficult" film can be accessed. They sometimes alert the spectators artistic innovations that may not be apparent to the untrained eyes. Historically, film critics initiated new cinematic movements or even defined the artistic and cultural identities of productions from their countries or regions.
The jury members debating to which film they would award the Youth Jury Prize
The SGIFF has run the Young Jury and Critics Programme for a number of years. Currently, this programme is coordinated by producer Lai Weijie (Pop Aye, 2017). The programme is organised in partnership with the Wee Kim Wee School of Communication and Information, Nanyang Technological University (NTU) and *SCAPE. Before the festival opening, jury members met periodically to attend seminars led by Lai. Top industry professionals from different areas were also invited to the festival. Speakers this year included Chai Yee Wei from Mocha Chai Laboratories, Alfonse Chiu and Jeremy Sing from Sindie, writer/journalist Pamela Ho, Professor Lee Sang Joon from NTU, Leong Puiyee from Objectifs Centre for Photography and Film, Kelly Leow from Moviemaker Magazine, John Lui from The Straits Times, Vincent Quek from Anticipate Pictures, Sharon Tan from The Projector, Thong Kay Wee from the Asian Film Archive, and visual artist/film researcher Tho Hun Ping.
Besides attending talks and seminar discussions, young jury members watched the SGIFF short film programmes with the goal of selecting a winner of the Youth Jury Prize. They also published articles and video essays in the festival's online journal Youth Meets Film. This process offered them a chance to talk to Lai and the guest speakers about what they liked and disliked about each film, to understand how professionals from different positions in the industry would evaluate a piece of work, and how they might approach the same film from angles that were specific to their generations.
I first met these young talents in mid-November via Skype, and then in person in the morning of 1 December. I asked them to tell me how they would approach a film when they watched it. While some paid attention to a film's camerawork and editing, others thought carefully about its representation of social, cultural, and political implications, including national or regional specificities, transnational circulation of ideas, gender equity, and sexualities. As they established connections between these different approaches, they came to see that these criteria are interrelated, and that form and content are fundamentally inseparable.
After this discussion, we conducted a group meditation. The purpose of this exercise was not simply to relax our senses, but also to get to know how our bodies perceive a set of sense-data and how we produce affective responses that in turn give forms to what we call an image. Through this exercise, they realised that film viewers do not simply sit in the cinema and watch a film passively. Rather, they actively make sense of what they see, interact with the world they perceive, and deposit their affective and emotional responses into their minds as memories. Then, after a lively talk about international film acquisition by Vincent Quek, we delved into an in-depth discussion of film authorship. The discussion started with the presupposition that the director is responsible for the creation of a film. These young critics then called into question this assumption by studying how a director is in turn authored by their immediate environment, the film industry in which they work, their relationship with Hollywood, and the global geopolitics that shapes these interdependent––and often politically asymmetrical––relationships.
In my own research, I am interested in how local filmmakers, critics, and intellectuals would bring "site-specific" ideas and sensibilities into their understanding of cinema and individual films. Therefore, I began our meeting the next morning with a presentation of my research on Shanghai filmmaker Fei Mu (Fey Mou, 1906–51) and Hong Kong film director Tang Shu-shuen. This provided an opportunity for the jury members to debate what Singaporean cinema is, and how they can bring ideas that are specific to the social, political, and cultural conditions of Singapore to film criticism. Singaporean cinema is often considered a cultural practice that represents the lived experience of Singaporeans. Without denying the significance of such a definition, our young jurors found that Singaporean cinema could also be understood as a discourse that actively rewrites and reconfigures what "Singaporean" means. In this sense, as Chris Berry argues, a national cinema is at once constituted by, and actively constituting, the community of viewers and their identities.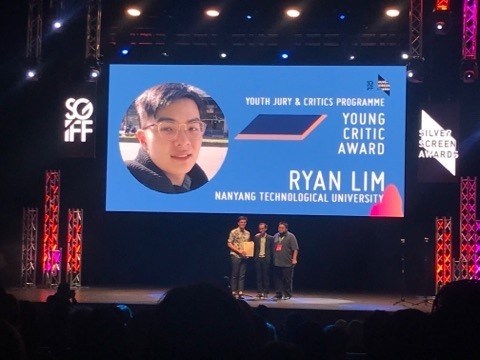 Ryan Lim receiving the Young Critic Prize during the award ceremony.
The climax of the Youth Jury Programme was voting for the Youth Jury Prize, during which our young talents put into practice the democratic process of intellectual debate and negotiations. After a four-hour discussion, they finally gave the prize to Aditya Ahmed's Kado (A Gift, 2018). A few days later, one of the young critics also received a prize for excellence in film criticism. This year, this prize went to Ryan Lim from NTU. For me, Lim's writing offers original insights into not only the story and the reality a film seeks to represent, but also how such a story is told and how such a reality comes into being by means of film language. His attention to narrative details, character intricacies, and audio and visual nuances enables his reader to understand how the image, the filmic text, and the spectator's body all interact to constitute a cinematic experience. Further, he manages to do so with an accessible language that does not compromise the sophistication of his ideas and his unique sensibility.
What the SGIFF does is not only admirable, but also essential to the future of Singaporean, Southeast Asian, and global cinemas. It was an honour to work with such a group of talented, energetic, and fearless young individuals. It was also pleasure to be surrounded by so many young cinephiles who are knowledgeable about cinema, and who are eager to learn, to think, and to make this world a better place! We need more programmes like this around the world to ensure that our new generation would have the opportunity to hone their critical thinking, which would in turn encourage filmmakers to create a wider variety of entertaining and thoughtful works––films that would enable us to rethink and re-determine who we are and who we can be in the future.
作者簡介:Victor Fan is Mentor of the Youth Jury and Critics Programme, the Singapore International Film Festival; Senior Lecturer and Undergraduate Assessment Sub Board Chair, Department of Film Studies, King's College London; University Fellow, Department of Humanities and Creative Writing, Hong Kong Baptist University; and Film Consultant I, the Chinese Visual Festival (London).
照片由作者提供